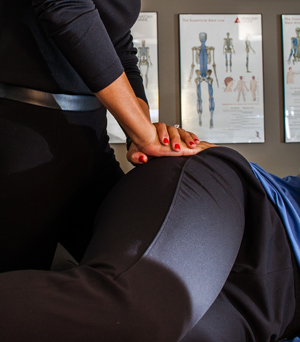 Another common area of need for our patients is in hip pain treatment. Like most other areas of physical pain, you don't have to be an athlete to need help in this area. We of course can diagnose and help you with hip pain here at Dynamic Spine and Sports Therapy.  And, you may be pleasantly surprised.
One Area of Focus In Hip Pain Treatment
Get ready. A surprising area of focus in hip pain treatment is, wait for it . . . the big toe. Ankle pain, foot pain, hip pain, low back pain, and even headaches can be the result of an error in movement of the big toe or hallicus.
We of course would need to diagnose and prescribe a specific plan for your hip pain treatment, but you may be surprised to find how you use your big toe can be an issue.

The hallicus is connected to the big toe and is considered to be the most overlooked muscle in running gait and lifting bio-mechanics.  Many times will we see the foot pronate during running and we will also see the knee dive in during the mid-foot stance.  This will often indicate how we should be looking toward the mid-foot and fibular muscles as a place for scar tissue and errors.
A basic test can be completed with the foot and ankle in full complete dorsiflexion to see if the toe is functioning correctly.  If this is  not the case, more likely than not, the big toe could be the culprit for foot pain, ankle pain, calf pain, knee pain, thigh pain, hip pain, low back pain, or those headaches you've been experiencing.
Or, perhaps you've been experiencing a little of all the above.
Your Body's Specific Needs
Is it just your big toe? We won't really know until you reach out with your specific needs. Located around the metro Atlanta area, we at Dynamic Spine and Sports Therapy are happy to help.