The Dynamic Spine and Sports Therapy team is a group of Georgia chiropractors based in and around the Metro Atlanta area.
How Did This Team Form?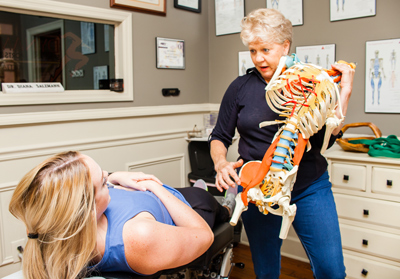 Dr. Jered Hull, the group's founder, was first exposed to chiropractic as a toddler suffering from chronic ear infections. Growing up, his mother took him to visit a chiropractor who helped him overcome the ear infections.
Many years later, after graduating from Liberty University with an Athletic Training degree, Dr. Hull saw that his passion lies with working hands-on with the human body, helping athletes perform better and watching patients return to the lifestyles they love.
Dr. Hull has helped many athletes through sports medicine, both professional and scholastic.  He provides certified athletic training to staff members of three local area private schools and has helped more than eight other schools start their own sports medicine programs.  He has spent time working with the Tennessee Titans, Nashville Predators, Division I-A NCCA athletes, Olympic development soccer athletes, and NFL Scouting Combine athletes during his time as a certified athletic trainer.
What does it mean to have a certified athletic trainer as a founder?  A certified athletic trainer holds a 4 year undergraduate degree that entails study in the following areas: rehabilitation, pathophysiology,  anatomy, taping and bracing, pharmacology, kinesio taping, corrective exercise programs, emergency injury care, sports nutrition, therapeutic modalities, and evaluation of injury. In addition to a 180 credit hour degree program, a practical time frame of over 4,000 hours with a sports team is also required.
The certified athletic trainer is the gatekeeper of the sports medicine team and normally heads up all sports medicine programs in every sport across the country.  This person is qualified to provide a multitude of services but the finest service they provide is protecting and helping any injured athletes return to their field of play faster.
Imagine harnessing this kind of expertise to address your body's unique needs.
You too can benefit from this expertise and quality of care by looking to the team of Georgia chiropractors at Dynamic Spine and Sports Therapy.
Our Georgia Chiropractors and Sports Medicine Professionals