"There's nothing like the kickoff at the Super Bowl – it still gives me chills! You never think that you'd ever be there, but then one day, it happens!" Dr. Bill Lutz knows first-hand since he was sideline at Super Bowl LI with the Atlanta Falcons and working as part of the Sports Medicine and Performance staff as the seasonal assistant Athletic Trainer including 23 games.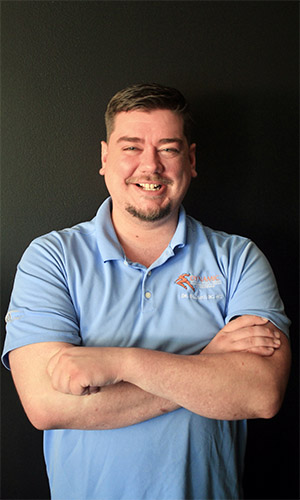 Dr. Lutz joined Dynamic Spine and Sports Therapy after graduating with a Doctorate in Chiropractic from Life University in 2020. He has been practicing sports medicine in the Atlanta area since his arrival as part of Georgia State University's Athletics Department in Spring 2014 after getting his Bachelor of Science in Athletic Training from Iowa State University. Dr. Lutz also completed study in Eastern Medicine abroad in Taiwan in the Summer of 2013 through the University of Georgia.
"I was working with the student-athletes at a soccer game one day, and there was a rain delay. With nothing else to do, I was just chatting with parents and began a conversation with a player's dad who was a chiropractor. Previously, I had studied for a summer in Taiwan, and I saw the strong connection between the mind and the body that was emphasized in their health care. As I talked with the chiropractor, things just really came together for me."
Lutz says that it was then that he came to the realization that he wanted to focus on manual therapies and the use of his hands as his therapeutic tools instead of machines and pharmaceuticals. He also notes that he practices with more clinical autonomy and does not have to work under a medical physician's supervision with his Doctorate in Chiropractic.
Dr. Lutz notes that both his education and time in elite level athletics have a strong emphasis on functional movement, and since the body's movements are controlled by the nervous system, he wanted to learn how to fix miscommunication of the body as a system. "And that's what led me to where I am today – learning to solve problems rather than just treat symptoms."
Dr. Lutz is proud to be a member at Dynamic Spine and Sports Therapy because he can help people improve at what they do. "The more I learned, the more I wanted to make this type of care available to not just elite level athletes, as everybody deserves the chance to have highly functional, quality movement." Dr. Lutz works in the Dynamic Spine and Sports Therapy office at Kennesaw.
A native of Saint Paul, Minnesota, Billy is the son of Thomas and Jeanne Lutz. He lives in Atlanta with his dog (Mila). "Gameday" is his favorite day of the year, luckily due to his profession, gameday is almost everyday of the year for one or more of his patients. He is a Licensed Chiropractic Examiner and Athletic Trainer by the State of Georgia Department of Health and a Certified Athletic Trainer by the National Athletic Trainers' Association Board of Certification. He is a member of the National Athletic Trainers' Association and is certified in CPR and first aid by the American Heart Association.
Credentials
Doctor of Chiropractic (Cum Laude), Life University
Masters of Science (Sports Medicine), Georgia State University
Bachelor of Science Degree (Athletic Training), Iowa State University
Board Certified and Licensed Athletic Trainer (BOC)
Board Certified Chiropractor
Board Certified in Physiotherapy
Member of the National Athletic Trainers Association (NATA)
Sound Assisted Soft Tissue Mobilization
Extremity Adjusting
Events Worked
Superbowl LI (Atlanta Falcons)
March Madness/Big XII Championship (Sweet 16 with Iowa State)
Georgia Tech Men's Basketball
Peachtree Road Race
Atlanta Entertainment Basketball League
Drake Relays
Taiwan National Judo Championships
NCAA Division 1 Men's Swimming and Diving Championships
NCAA Division 1 Wrestling Championships
ACC Men's and Women's Swimming and Diving Championships
Sunbelt Men's Soccer Tournament
Big XII Indoor Track Field Championships
Iowa High School State Wrestling Tournament
Iowa State University Men's Hockey
Special Olympics Iowa